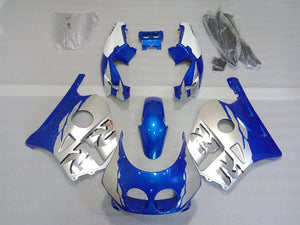 ---AU STOCKING---Fit Honda CBR250RR MC22 Fairing Kit Blue and Silver
$870.00

$870.00

Save

$372.86
---
---
Honda CBR250RR Fairings / MC22 Fairing Kit
Anti-lock brakes were a factory fitment on the Honda CBR250RR Fairings/MC22 Fairing Package.
Injected into a mould (an enhanced method) (improved) ABS is the material of choice for most fairing kits (injection moulded) (injection moulded).
Excellent quality and quickly installed thanks to pre-cut holes make them appropriate for use by Original Equipment Manufacturers (OEMs) (OEMs).
The fit of an article of clothing is crucial to its overall comfort, as is the fact that it does not chafe or irritate the skin, and finally that it is the right length. CBR250RR Honda Fairings / MC22 Fairing Kit.
AFTERMARKET HONDA FAIRINGS COMPATIBLE WITH:
| | |
| --- | --- |
| Make: | Honda |
| Model: | CBR250RR MC19 |
| Year: | 1990-1999 |


HONDA MC22 FAIRING KIT COMES WITH 9 PIECES + 3 FREE GIFTS.
Full Honda Fairing Kit Panels

Free Bolts Set (Spare fairing bolts only)

Windscreen

Heat Shield
12K Motor Motorcycle Fairings

Take the Honda CBR250RR Fairings / MC22 Fairing Kit for a motorcycle as an example. This is just one example of the numerous possibilities that are at your disposal. This is but one of the possible permutations that may have occurred.

The complete rear ducktail of the Honda CBR250RR Fairings / MC22 Fairing Package, including all components. This package is also available for purchase individually.

The upper fairing and the mudguards can be ordered separately. However, there is a price reduction for purchasing them together.

Fairings of a Honda CBR900R include the fuel tank cover, the seat cowl, and the windscreen.

It would be prudent to get this motorcycle accessory because it is compatible with the motorcycle fairing you already own.

Several of our motorcycle fairing kits may require additional small infill panels or black plastic panels to achieve the desired appearance.

Nowadays, it has become considerably simpler to replace plastic motorcycle fairings.

All new Kawasaki motorcycles come complete with a windscreen and heat shield, making it simple to install the fairings.

As a bonus, a grey tint can be applied to the windscreen. We guarantee that our products are compatible with conventional and unique OEM components.

Please feel free to contact us via email at any time if you have any questions, recommendations, or issues regarding the bicycle components or solar panels we sell.

Methods of Production and the Amounts of Time Allotted

The height of motorcycle customising is the decal installation to a set of Honda CBR250RR Fairings or an MC22 Fairing Kit.

One of our customers created this unique product, known as the 12,000-Horsepower Honda CBR250RR Fairings / MC22 Fairing Kit.

A variety of aftermarket fairing kits are available for the Honda CBR900RR to accommodate the large variety of fairing types, production years, design revisions, and colour options available for this model.

This is due to the mind-boggling number of conceivable permutations that must be considered. 

Only a handful of manufacturers, including Honda, Yamaha, Suzuki, Kawasaki, and Ducati, have been permitted to commence production.

When it comes to products, we lay a greater emphasis on alternatives made by third parties as compared to those created by the original equipment manufacturer (OEM).

The 12K MOTOR bumper kit contains most of the components for an anti-lock braking system (ABS Plastic Material).

Most racecars feature fibreglass fairings as standard equipment (Track Fairing Kits). Our company manufactures the fairings used on various motorcycles, such as the Monster, Repsol, Shark, and Rossi.

We examined both OEM and aftermarket motorcycle fairings. This was done to have something to use as a benchmark for our evaluations when comparing brands.

Following confirmation that the payment was received in whole and without error, 12kmotors.com will begin the delivery process.

The provided time estimates account for the following actions throughout the various production phases:

If you have any questions, feedback, or suggestions, we would appreciate contacting us. Before a motorcycle may be ridden on public streets, the fairings must be meticulously prepared, primed, and painted. 

Following that, you're free to ride it. If so, your only alternative will be to comply with the law. This vitally critical project must be completed as quickly as feasible.
While participating in a group activity for the first time, you should have different expectations than if you were participating on your own.
Stickers that have been laminated have a greater possibility of preserving their original colours, pictures, and translucence for longer than stickers that have not been laminated. Laminated stickers are also less likely to fade with time.
When you remove your motorcycle from storage in the spring, you should publish photos of the fairings online to remember the positive experiences you've had with it.
There may be a need for additional research on the panel packing density.
Due to the specific peculiarities of your gathering, additional preparation time is necessary from each guest.

Extra services for fairings

After payment, the average manufacture time for aftermarket fairings is between ten and fifteen days.

Fairing kits consisting of carbon fibre and fibreglass demand substantially more labour in motorsports than kits built of aluminium.

If you decide to modify the colour scheme or design after we have began working on a project, you will need to give us more time to complete it before you can consider it complete.

Typically, the maker of a fairing kit will include a photograph of the completed product on the package's packaging.

 

 

Having complementary hues




Because the gasoline tanks and fairing panels do not satisfy the manufacturer's aesthetically defined specifications, it is legitimate for you to be concerned about this.

Something comparable could occur in a variety of different contexts. Deterioration of the fairing paint, variations in the undercoat and layer thickness, and other factors all contribute in varying degrees to this issue.

Moreover, evaluating equipment supplied by the original equipment manufacturer (Original Equipment Manufacturer) is crucial. 

Consider the situation in which you want to ensure that the fairings on your motorcycle are the correct colour.

You may order small samples from our Sydney manufacturing facility or Australian warehouse.

The price could range from fifty to eighty dollars depending on how well the colours must complement one another.

We cannot promise that the replacement will be an exact match, but we will make every attempt to identify one.

From this vantage point, the majority of the fairing can be seen. While I eagerly anticipate receiving your support, my chest is excited.

Because you still need to provide an apparent description of the colour of the fairing on your motorcycle, we will have to make do with what we have.

12k Motor will do an educated guess calculation based on the information you supply to determine how closely we can match the colour of the custom motorcycle fairing assembly you ordered.

If you are searching for a favourable response, it does not matter what colour fairing you install on your motorcycle.

The claims that the OEM motor fairing kits and the 12k motor fairing kits look too dissimilar in hue are false (Or fuel tank).

Using only original equipment manufacturer (OEM) fairing components or painting the gas tank to match the colour of our fairing kit will yield the best results (OEM).

Depending on the industry, a gas tank repair in Australia could cost anywhere from $250 to $400.

Despite this, the average price is close to $300. Employing paints and dyes to create a spectrum of hues, the authors skillfully represent this event.

There are two primary cost categories for repairing a gas tank. The actual expenditures were much less than anticipated, demonstrating the plan's success.

When you purchase our aftermarket fairing system, you also receive free stickers.

 

12K MOTOR-Quality Guaranteed Aftermarket Motorcycle Fairing Kits

Our twelve one-of-a-kind Kine Motor Fairings are manufactured using injection moulding and aftermarket-grade ABS.

To build a fairing kit that has been so successful that it has captured a significant share of the market, we utilised injection moulding and high-quality ABS from a well-known global brand.

Even if you can successfully disassemble one of our kits, we will continue to guarantee its superior quality.

As the original fairings are being reconstructed, the replacements must be positioned identically to the originals.

Mounting aftermarket fairings requires far more time and work than previously believed. 

To execute this task properly, you must commit to memory the location of each screw and the procedures for replacing the clip and the rubber.

You must always maintain a high level of vigilance if you intend to safeguard the confidentiality of the information above. 

We have an advantage over our competitors since we have expertise in showrooms and workshops.

When you ride your motorcycle through the neighbourhood, you may get some fresh air and work up a sweat without wasting any time. 

This is a fantastic way to get some workout. Fairings can now be obtained as an aftermarket accessory for various motorcycles to function as an optional modification. 

Our custom fairing kits are subjected to rigors testing to ensure they produce the expected results.

To save substantial money, you should strongly consider buying an existing motorcycle club from its current members.

When restoring something, keeping some of the original screws and any black inside fairing bits is necessary.

Certain bicycles make it more difficult to install a fairing kit. Before installing the fairing on the motorcycle, the subframes and mounting points must be in good condition and capable of supporting its weight.

If the system is running normally, installing the fairing kit will not be possible. If you want the most recent version of the system configuration instructions, please contact us as soon as possible.

If you want the fairing to remain in good condition for as long as possible, please do not attempt to force it into place.

 

Minimal money spent to get a new hot bike, what are you waiting for?

Add this to your shopping cart now and continue to browse other variations. Save your time to come back to find it again. If you want more time to consider, just simply save them in cart until you decide to go ahead.

We look forward to seeing your photos showing our fairing kits on your motorcycle.

Currently Reviewing:

Honda CBR250RR Fairings / MC22 Fairing Kit

Honda CBR250RR Fairings / MC22 Fairing Kit