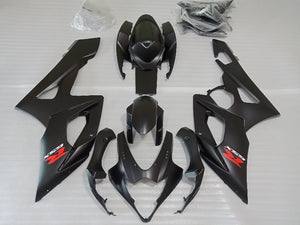 ---AU STOCKING---Fit Suzuki GSXR GSX-R 1000 2005 2006 Matt Black Fairing Kit
$980.00

$980.00

Save

$420.00
---
---
SUZUKI GSXR Fairings RSX-R 1000 2005 & 2006 - Matt Black


Suzuki GSXR Fairings Kit ABS is a high-quality material used to make fairing kits (injection moulded). Fairing kits for the Suzuki Hayabusa GSX-R 1000 in 2005 and 2006 are made of ABS.
OEM quality is built in, and the holes are already drilled. If the item has been properly measured, you can be sure it will fit you well. To put it another way, any 2005 or 2006-made Suzuki GSXR motorcycle. 
AFTERMARKET FAIRING KIT COMPATIBLE WITH:
| | |
| --- | --- |
| Make: | SUZUKI |
| Model: | GSX-R 1000 |
| Year: | 2005 2006 |



FAIRING KIT COMES WITH 10 PIECES + 3 FREE GIFTS.
Full Fairing Kit Panels

Free Bolts Set (Spare fairing bolts only)

Windscreen

Heat Shield
12K Motor Motorcycle Fairings
Fairing kits for the Suzuki GSXR-1000 are available from us in a wide range of colours and styles. All Suzuki GSXR motorcycles made between 1999 and 2007 came with a standard rear ducktail fairing package. The package includes the top cover, the front mudguard, and the belly pan.
As standard equipment, the fairing package for the Suzuki GSXR 1000 motorcycle includes a cover for the gas tank and a seat cowl. This add-on was made to work with the stock fairing of the motorcycle so that it can be a helpful addition.
If we want our motorcycle fairing kits to look the same, we can add fill-in or black plastic panels. The plastic fairings on your motorcycle are much easier to change than they used to be.
Because we want to make things as easy as possible for you, our Kawasaki motorbike fairing kit comes with fairing bolts, a windscreen, and a heat shield.
There is also a dark grey colour for the windscreen. The warranty on our products guarantees that they will work with the model made by the original equipment manufacturer.
Before you buy any bike parts or panels, please email us if you have any questions or concerns.
Methods of Production and the Amounts of Time Allotted
Aftermarket Suzuki GSXR Fairing Kit 12k: We frequently get motors with aftermarket fairing kits and fairing parts. We can't sell all of the custom-designed Suzuki GSXR-1000 motorbike aftermarket fairing kits on the market since there are so many fairing types, years of production, design, and colour variations.
If we can get our hands on them, we'll look for every SuzukiGSXR fairing built between 2005 and 2006. We can't sell Honda, Yamaha, Suzuki, Kawasaki, or Ducati products because we don't have a licence from them.
We pay greater attention to products made by aftermarket manufacturers than to those made by original equipment manufacturers. The street fairing kit for the 12K MOTOR is composed of ABS plastic (ABS Plastic Material). Fibreglass race fairing kits are commonly used (Track Fairing Kits).
We can supply fairings for Monsters, Repsols, Sharks, and Rossis. Each of these automobiles has a different cover. We investigated OEM fairings, Ninja fairings, Lucky Strike/Rizala fairings, Repsol fairings, Shark fairings, Camel fairings, and Tricolor/Red Bull fairings, among others.
After receiving your payment and placing your order on 12kmotors.com, you can expect us to begin working on it immediately. These processes are also considered when determining how long it will take to manufacture something:
If you have any questions or problems about your order, please get in touch with us. This is essential while painting and preparing to paint motorbike fairings. When you look at it from the inside, you realise how vital it is.
Put graphics, decals, and clear lacquer on the stickers for a long-lasting finish. Please take photos of your motorcycle's fairings before storing them. After that, ensure sure each panel is as firmly packed as possible. We will need to do more to ensure that the unique design of the fairing we created for you is precisely what you desired.
Extra services for fairings
The production time for aftermarket fairings is typically between ten and fifteen days. If you choose to change the colour, design, or any other aspect of the production at this time, we will require more time. Traditional race fairing kits consisting of carbon fibre or fibreglass require more production time. After giving you your fairing kit, we will send you a photo of it to ensure it looks good before sending it to the next customer.
Having complementary hues
12k motors cannot guarantee that the colours of their items will match the OEM factory fairing panels and fuel tanks you are utilising to ensure proper fitment.
This could be produced, for instance, by the faded colour of the paint on the fairing or by variations in the thickness of the undercoat and the layers.
Fairings can be delivered to our Sydney facility along with a tiny sample of the original component to ensure that the colour is identical.
Depending on the colour you'd like us to match, we charge between $50 and $80 for this service.
We cannot guarantee an exact match, but we can guarantee a very close match.
Could you provide us with a photo of the OEM fairing component before sending us anything?
We may not be able to match the original colour of your motorcycle fairing.
Based on images or experience, 12k Motor can estimate how well we can match the colour of your custom motorbike fairing kit.
This still holds true even if your old and new motorcycle fairings are different colours.
If the tiny colour difference between OEM and 12k motor fairing kits doesn't affect you, don't worry about it (Or the fuel tank).
For optimal effects, we recommend painting the gas tank to match the colour of our fairing kit or using OEM fairing components (OEM).
Depending on the colour and paint industry, the average cost to repair a full gasoline tank in Australia is between $250 and $400.
You should have anticipated this to be somewhat less than it is.
We will provide free gas tank stickers when you purchase our aftermarket fairing system.
12K MOTOR-Quality Guaranteed Aftermarket Motorcycle Fairing Kits
High-quality aftermarket ABS injection moulding was utilised to create these 12K Motor Fairings. 
We can provide the best fairing kit on the market because of our proficiency with injection moulding and utilising imported ABS material in its original form. 
We also guarantee that none of our kits will be altered, such as being drilled or otherwise tampered with. 
Our aftermarket fairings are as simple to instal as the originals that came with your motorcycle.
Installing aftermarket fairings is more complex than it appears.
Remember which screws go in which holes and how to transfer the clips and rubber from the old panel to the new panel when removing the old fairing components.
A considerable amount of time as business owners and mechanics. Motorcycles are the foundation of our livelihood.
A variety of motorcycles have been fitted with aftermarket fairings.
Regardless, our fairing kits are always constructed to fit flawlessly.
When purchasing a motorcycle, you can rely on the advice of your clubmates. 
It would help if you kept some of the black inside components and the original fairing bolts in case you need them in the future.
On certain motorcycles, it may be challenging to instal a fairing kit.
Before installing a new motorcycle fairing, you must ensure that neither the sub-frames nor the mounting points have been compromised. 
This is particularly critical if the bicycle has been involved in an accident or dropped.
Even though everything else usually functions, there is an issue with the fairing kit.
If you could contact us as soon as possible, we would be pleased to provide you with the most recent software installation instructions.
Please do not attempt to push the fairing into place, as doing so could cause damage.
Minimal money spent to get a new hot bike, what are you waiting for?
Add this to your shopping cart now and continue to browse other variations. Save your time to come back to find it again. If you want more time to consider, just simply save them in cart until you decide to go ahead.
We look forward to seeing your photos showing our fairing kits on your motorcycle.
Currently Reviewing:
SUZUKI GSXR Fairings RSX-R 1000 2005 & 2006 - Matt Black