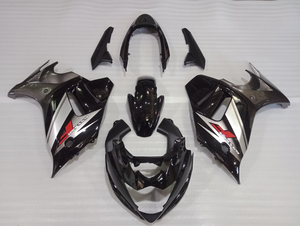 ---AU STOCKING--- SUZUKI GSX650F 2008-2013 Black and Silver Fairing
$970.00

$970.00

Save

$415.71
---
---
SUZUKI Fairings GSX650F 2008-2013 Black & Silver


Suzuki fairing kit for an automobile The superior ABS plastic is typically used to fabricate fairing kits (injection moulded). ABS was the prefered construction material for the Suzuki Fairing Kit GSX650F 2008-2013 from 2008 through 2013.
There is also OEM quality available, in addition to pre-drilled holes. If the item has been appropriately tailored to your measurements, you may be at ease knowing it will fit you like a glove. One other way of putting this is that any Suzuki motorcycle manufactured between 2008 and 2013 is eligible.
Aftermarket fairing kit Compatible With:
| | |
| --- | --- |
| Make: | SUZUKI |
| Model: | GSX650F GSX750F |
| Year: | 2008-2013 |



Fairing Kit comes with 17 Pieces + 3 Free Gifts.
Full Fairing Kit Panels

Free Bolts Set (Spare fairing bolts only)

Windscreen

Heat Shield
12K Motor Motorcycle Fairings
Regarding the Suzuki GSX650F fairing kits from 2008-2013, you may choose various colour schemes and design options. A rear ducktail fairing was included as standard equipment on Suzuki GSX650F bikes manufactured in 2008, 2009, 2010, 2011, and 2013.
If we want to maintain the uniform appearance of our motorcycle fairing kits, we can use filler panels or black plastic panels.
Changing the plastic fairings on your motorcycle has gotten significantly simpler in recent years.
Please do not hesitate to email us if you have any questions or concerns before purchasing any bike parts or panels.
Methods of Production and the Amounts of Time Allotted
If we are successful, we will seek out every Suzuki GSX-650F 2008-2013 fairing produced between 2008 and 2013.
We receive a significant number of inquiries for aftermarket Suzuki GSX650F 2008-2013 Fairing Kit 12k engines with fairing kits and fairing component.
Despite our best attempts, we cannot offer every aftermarket Suzuki GSX650F 2008-2013 motorcycle fairing kit.
Because we lack a legitimate licence from any of these firms, we cannot supply Honda, Yamaha, Suzuki, Kawasaki, or Ducati products.
Our organisation holds the alternatives sold on the aftermarket in greater regard than those manufactured by original equipment manufacturers (OEMs).
Extra services for fairings
Typically, aftermarket fairings take between ten and fifteen days to produce.
Traditional race fairing kits composed of fibreglass or carbon fibre will take substantially longer to manufacture.
If you decide at this point to alter the colour scheme, the design, or any other project component, we will want extra time from you.
After sending you your fairing kit, we will email you a photo of the completed kit for your approval before sending it to the next customer. This will occur before your fairing kit is shipped to the next buyer.
Having complementary hues
When OEM factory fairing panels and fuel tanks are utilised, 12k motors cannot guarantee that the colours of their products will be a perfect match.
There is no cause for alarm if there is a tiny colour difference between the OEM and 12k motor fairing kits (Or fuel tank).
If you want the best effects, we recommend either painting the gas tank to match the colour of our fairing kit or using original equipment manufacturer components. 
If you wish to paint the gas tank, be careful to match the colour to that of our fairing kit (OEM). The average cost to repair a complete gasoline tank in Australia ranges between $250 and $400.
It would help if you had instead predicted that this would be significantly less than what it is.
In conjunction with purchasing our aftermarket fairing system, we will give you some complimentary gas tank decals.
12K MOTOR-Quality Guaranteed Aftermarket Motorcycle Fairing Kits
When we made the 12K Motor Fairings, we used aftermarket ABS injection moulding of the highest possible quality. We can provide the best fairing kit currently on the market because of our proficiency in injection moulding and our utilisation of ultra virgin imported ABS Plastic.
This allows us to fulfil our promise of providing the best fairing kit. In addition, we warrant that none of our kits will be modified in any way, including being drilled or otherwise altered. Our aftermarket fairings are just as straightforward to instal as your factory fairings were when they were installed on your vehicle.
Minimal money spent to get a new hot bike, what are you waiting for?
Add this to your shopping cart now and continue to browse other variations. Save your time to come back to find it again. If you want more time to consider, just simply save them in cart until you decide to go ahead.
We look forward to seeing your photos showing our fairing kits on your motorcycle.
Currently Reviewing:
SUZUKI Fairings GSX650F 2008-2013 Black & Silver