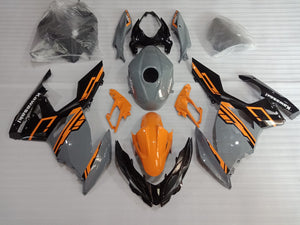 ---AUSTOCKING---Fit Kawasaki Ninja 400 Yellow Grey Fairing Kit With Tank cover
$1,100.00

$1,100.00

Save

$471.43
---
---
Kawasaki Ninja 400 Fairings Aftermarket Kit Yellow Grey With Tank Cover
Please be advised that 12Kmotor.com.au is not an authorised dealer for Honda, Yamaha, Suzuki, Kawasaki, Ducati, or BMW products. 
Our expertise is not original equipment manufacturer (OEM) parts but replacement or aftermarket components.
We produce a range of Kawasaki motorcycle fairing kits that may be placed on your motorcycle. 
If you do not see a design you like, please get in touch with us at sales@12kgroup.com so we can create one specifically for you! 
12K Motor's fairing kit is backed by one of the most extensive warranties available by any manufacturer in this sector.
Aftermarket KAWASAKI fairings Compatible With:

| | |
| --- | --- |
| Motorcycle: | Kawasaki |
| Model: | NINJA 400 |
| Year: | 2018 - 2020 |


Fairing Kit comes with 21 Pieces .
Full Fairing Kit Panels

Windscreen

Heat Shield

Tank Cover
 

12K Motor Aftermarket Motorcycle Fairing Supplier

Please be advised that 12Kmotor.com.au is not an authorised dealer for Honda, Yamaha, Suzuki, Kawasaki, Ducati, or BMW products. 

Our expertise is not original equipment manufacturer (OEM) parts but replacement or aftermarket components.

We produce a range of Kawasaki motorcycle fairing kits that may be placed on your motorcycle. 

If you do not see a design you like, please get in touch with us at sales@12kgroup.com so we can create one specifically for you! 

12K Motor's fairing kit is backed by one of the most extensive warranties available by any manufacturer in this sector.

Fairings

With the help of our motorcycle fairing kits, such as the Kawasaki Ninja 400 Fairings Aftermarket Kit Yellow Grey With Tank Cover, you can breathe new life into your bike. 

Our kits contain all the required components to give your bicycle a fresh start.

A typical aftermarket fairing kit for a Kawasaki motorbike may include the following:

A front mudguard.
Front upper fairing.
Left and right sides (sometimes a belly pan or lower side panels).
A full rear duck tail is fairing. 

Typically, the package will also include a complete rear duck tail fairing.

The Kawasaki fairing kit is an aftermarket addition that includes a tank cover and a rear seat cowl.




Our motorcycle fairing kits frequently include inner black plastic panels or smaller fill-in panels to complete the look. 

These panels are constructed from plastic. It will save you much time and effort if you replace your motorcycle's plastic fairing components simultaneously.

To assure your comfort with our Kawasaki aftermarket fairing kit, we provide clear and black windscreen and heat shield options for your motorcycle. 

We guarantee 100 percent OEM compatibility for our products. Do not hesitate to contact us before purchasing if you have any questions about the components and panels included with your bicycle.

Fairings Production Process and Time

If we have any of the KAWASAKI aftermarket fairings you are looking for in stock, we will indicate so on our website.

Our custom-made 12k motorcycle fairings Australia KAWASAKI aftermarket fairing kits and fairing parts are based on the precise needs of our clients. 

Because of the vast number of motorcycle fairing models, years of production, and various styles and colours, we cannot provide all of the adjustable designs of these aftermarket fairing kits. 

We regret any trouble that this may create. The ABS covers are included with the 12K MOTOR Road Fairings Kit (sometimes called the Street Fairing Kit) (ABS Plastic Material). 

Typically, a race fairing kit will include fibreglass coverings for your car (also known as a track fairing kit).

The Monster Fairing, the Repsol Fairing, the Shark Fairing, the Rossi Fairing, the Camel Fairing, the West Fairing, the Tricolor Fairing, the Red Bull Fairing, OEM Design Fairings, Ninja Fairings, Lucky Strike Fairings, Rizala Fairings, among others, are just a few of the well-known designs that we can provide.

When you place an order with 12k Motor Shop. We will initiate the transaction processing as soon as we receive confirmation that your payment has been received.

Below is a breakdown of each phase of the fairings manufacturing process, along with the time required to complete it:

Please be as specific as possible regarding the order's specifications and requirements.

You are doing the necessary maintenance and painting on your motorcycle's fairings. 
This also refers to the building's interior.
Putting graphics, decals, and a clear finish over the stickers on your fairing kit helps protect it from the weather and assures its longevity.
Assess the condition of your motorcycle's fairings, photograph them, and pack each panel carefully.
If you have a particular design or colour in mind, we will need to take further measures to guarantee that your order is exactly what you envisioned when you placed it.

Most designs for aftermarket motorcycle fairings require a rigorous manufacturing procedure that takes roughly 10-15 working days.

The assembly of a racing fairing kit made of fibreglass or a race fairing kit designed in the Race style demands considerable work. 

We will need more time if you request changes to the colour, design, or other specifications while we are in production.

If you choose a more complicated or personalised design than the basic options, we will email you photos of the completed fairings for your approval before sending you the kit.

 

Extra services for fairings

 

 

 

Fairings Color Matching

Even if you cannot provide us with a sample of the paint used on your original motorcycle fairings, 12k Motorcycle Fairings will make every effort to match the colour based on images or our experience. 

In this instance, we will rely on our prior knowledge. The original equipment manufacturer (OEM) fairing kit and the 12k motor fairing kit may have a slightly different shade of paint, which may be undesirable to some individuals (Or fuel tank). 

You may paint the gasoline tank to match the colour of our fairing kit, or you may purchase new original equipment manufacturer (OEM) fairings. 

We recommend that the gasoline tank be painted. In Australia, the cost to refinish an undamaged gasoline tank can range from $250 to $400, depending on the colour selected and the paint company. 

It is significantly less than you could ever guess, and they can colour-match it in virtually no time. 

With the purchase of our aftermarket fairing kit, we would gladly provide stickers for your gas tank at no additional cost.

 

12K MOTOR-Quality Guaranteed Aftermarket Motorcycle Fairings

Using cutting-edge technology known as Premium Aftermarket ABS Injection Moulding, 12K Motorbike Fairings are manufactured. 

We created an unrivalled fairing kit by combining our one-of-a-kind injection moulding process with imported ABS material of the highest quality.

Each of our kits comes with a satisfaction guarantee since we are confident in the quality of our products. 

These kits require neither modifications nor drilling. It will be as easy to install our replacement motorcycle fairings as removing the factory ones.

Removing and reinstalling a whole set of aftermarket fairings is more complex than you may believe. 

You must recollect the processes necessary to remove the old fairings, such as which bolts go in which holes and how to release the clips and rubbers from the old panel so they can be reapplied to the new fairing component. 

You must remember these instructions to be able to remove the old fairings.

We are not ordinary merchants; instead, we have years of experience in the motorcycle industry, and every one of our mechanics is a proper motorcycle enthusiast. 

We are familiar with the motorbike world. We put them through their paces by installing and assessing a range of motorcycle aftermarket fairing kits. 

Our fairing kit's precision has earned it a reputation for perfection. A dedicated group of persons with interest in sports motorcycles.

OEM fairing bolts, factory hardware, and even some black interior parts are superior for your motorcycle because they were explicitly designed for it. 

Several of these black interior components are constructed of aluminium. There is always the possibility of encountering an issue while installing fairing kits on a motorcycle. 

If your motorcycle has been involved in an accident or has fallen, the sub-frames and mounting points may have been damaged and are no longer in the correct position. 

Before installing the new fairing, ensure all of the motorcycle's connection points are in the correct location and good condition.

Upon inspection, everything looks functioning; however, the fairing kit cannot be mounted. 

Quickly cease your efforts and contact us, sending photographs of the issue you're experiencing, so we can provide you with the best suited advice available. 

Please do not attempt to push it onto the fairing; doing so will cause harm.

We look forward to seeing your photos showing our fairing kits on your motorcycle.

Kawasaki Ninja 400 Fairings Aftermarket Kit Yellow Grey With Tank Cover

Kawasaki Ninja 400 Fairings Aftermarket Kit Yellow Grey With Tank Cover