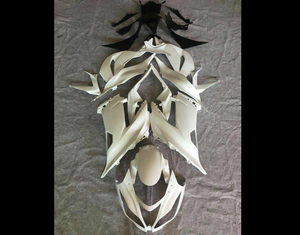 ---AUSTOCKING---Fit Kawasaki ZX-6R 2005 2006 Plain White Fairing Kit
$900.00

$900.00

Save

$385.71
---
---
2005 - 2006 Kawasaki ZX-6R Aftermarket Fairings Plain White
OEM replacement fairing kits are made of white ABS plastic that is injection moulded and designed for the 2005-2006 Kawasaki ZX-6R. This precision OEM exact fit component has been pre-drilled to provide a secure and comfortable fit every time. 
Aftermarket KAWASAKI fairings Compatible With:
| | |
| --- | --- |
| Motorcycle: | Kawasaki |
| Model: | ZX-6R |
| Year: | 2005-2006 |


Fairing Kit comes with 21 Pieces .
12K Motor Aftermarket Motorcycle Fairing Supplier
You must know that 12Kmotor.com.au is not a licenced Honda, Yamaha, Suzuki, Kawasaki, Ducati, or BMW dealer. To avoid confusion, they are not the same as Original Equipment Manufacturer (OEM) parts, which are what we provide for sale.
We manufacture a wide variety of fairing kits specifically designed for Kawasaki motorcycles. If you do not see a design you like on our website, please contact us at sales@12kgroup.com, and we will paint it for you! The guarantee that comes with the fairing kit sold by 12K Motor is among the most robust available in this industry.
Fairings
All of our Aftermarket Kawasaki fairings motorcycle motorbike fairing kits come with complete set of fairing panels and parts' painted & decal same as per photo shown, to rejuvenate your motorbike.
Most of Aftermarket Kawasaki motorbike fairing set comes with front mudguard, front upper fairing, left and right sides including belly pan or lower side panels, full rear duck tail fairing parts.
Some of Kawasaki aftermarket fairing kit including tank cover and rear seat cowl as well to match the whole motorbike fairing design.
Most of our motorcycle motorbike fairing kits come with smaller fill-in panels or inner black plastic panels to match the whole fairing design. Much easier for you to refresh your whole motorcycle plastic fairing parts.
For your convenience, our Kawasaki aftermarket fairing kit also comes with motorcycle clear or black windscreen and heat shield. We guarantee 100% OEM fitment.
Please do not hesitate to contact us via message if you are uncertain about parts and panels of your bike before making purchase.
Fairings Production Process and Time
We stock several variations of KAWASAKI aftermarket fairings in Australian warehouse and our own factory in China, we will mark them if we have stocking for that design.
Most of 12k motorcycle fairings Australia KAWASAKI aftermarket fairing kits and fairings parts are produced after our customer's order and requests. Because there are too many different motorcycle fairing models, years of manufacture, also with different designs and colors, we are unable to stock all of these customized deigns of these aftermarket fairing kits.
The 12K MOTOR Road Fairings Kit, or the Street Fairing Kit, is constructed from high-strength and low-weight ABS plastic material. In constructing race fairing kits, sometimes called track fairing kits, fibreglass fairings are utilised.
We can create fairings such as Monster fairings, Repsol fairings, Shark fairings, Rossi fairings, Camel fairings, West fairings, Tricolour fairings, Red Bull fairings, OEM design fairings, Ninja fairings, Lucky Strike fairings, Rizala fairings, and pretty much any other design you can think of, following the completion of your transaction at the 12k Motor Store.
We will start processing your transaction as soon as we get confirmation that your payment has been received. The amount of time and labour necessary to construct fairings is also contingent on the following factors:
Please be as detailed as possible with the details and needs for your order.
The prepping and painting of the motorcycle fairings.
(From both directions) More than stickers alone will be required to give your fairing kit a durable finish; you will also need graphics, decals, and clear lacquer to complete the process.
If you are going to ship your motorcycle, you need to examine the fairings, take photographs of them, and pack each panel with extreme caution.
If you want your fairing to have a specific colour scheme or design details added to it, placing a bespoke order would require more work on our part.
 
Currently Overview
2005 - 2006 Kawasaki ZX-6R Aftermarket Fairings Plain White