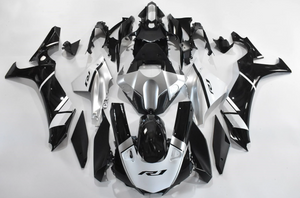 Black Silver Fairing Kit For YAMAHA R1 2020-2023
$1,120.00

$1,120.00

Save

$480.00
---
---
Custom Design For YAMAHA R1 2020 2021 2022 Fairing Kit
Top Quality ABS Plastic (Injection Molding) fairing kits. Pre-Drilled Precision OEM Perfect Fitment, guarantee 100% fitment. Elevate your Yamaha YZF-R1 2020-2022 to a new level with our Custom Design Fairing Kit. Crafted with precision from top-quality ABS plastic through injection moulding, this fairing kit offers the perfect fit, stunning design, and complete coverage for your motorcycle.
Aftermarket fairing kit Compatible With:
| | |
| --- | --- |
| Make: | YAMAHA |
| Model: | YZF-R1 |
| Year: | 2020-2022 |

Fairing Kit comes with 24 Pieces
Full R1 2020-2022 Fairing Kit Panels
Customize Your Ride:
With this fairing kit, you can create a truly unique look for your YAMAHA R1. Express your style and make a statement on the road. Send us your custom design, and we will bring your vision to life.
Top-Quality Construction:
Our fairings are manufactured with the utmost attention to detail. Using ABS plastic ensures durability and longevity, allowing your motorcycle to maintain its sleek appearance for years. Whether you are a daily rider or a weekend warrior, these fairings are built to withstand the rigours of the road.
Precision Fitment:
Say goodbye to the frustration of ill-fitting fairings. Our fairing kit is pre-drilled for precision OEM fitment, guaranteeing a 100% match with your YAMAHA YZF-R1 2020-2022. Installation is a breeze, ensuring you spend less time in the garage and more on your bike.
Complete Fairing Kit:
This kit includes 24 pieces, providing full coverage for your YAMAHA R1 2020-2022. From the front to the rear, your bike will be transformed into a work of art. Whether replacing damaged fairings or giving your bike a fresh look, this kit covers you.
Upgrade your YAMAHA R1 with a Custom Design Fairing Kit and experience the thrill of riding a motorcycle that reflects your unique style. Stand out from the crowd and turn heads wherever you go.
Please note that custom design fairings may require additional processing time. Contact us today to bring your design to life and hit the road in style.
Make: YAMAHA
Model: YZF-R1
Year: 2020-2022
Order your Custom Design Fairing Kit now and ride confidently, knowing you have a unique motorcycle that truly represents you.