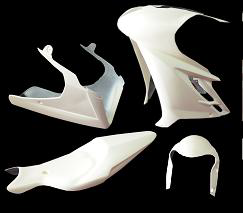 TRIUMPH 675 2013 - 2017 Fiberglass Race Fairing Set Track Fairing Kit
$980.00

$980.00

Save

$420.00
---
---
Daytona 675 Race Fairings 2013 - 2017  
Daytona 675 race fairings made of fiber glass is the most popular model offered by 12K Motor.
Please note that 12Kmotor.com.au is not a Honda, Yamaha, Suzuki, Kawasaki, Ducati, or BMW authorized dealer. 
Our products are not original equipment manufacturer (OEM) parts.
We create many different replacement fairing kits for Kawasaki motorcycles. 
Send us an email at sales@12kgroup.com if you don't see a design you like since we can custom paint anything you can think of! 
One of the best fitment guarantees in the business is offered by 12K Motor fairing kits.
Product Details:
Fiber glass manufactured.
Carbon reinforcement in the stressed areas.
Unpainted surface is raw material (Slightly marks or scratches are normal )
Painting will fix surface issues and required before use.
MV Agusta F4 2010 - 2019 Glass Race / Track Fairing Kit Contains: 
Upper Body
Lower Body
Stock Tail
Accessory Set Contains:
Windscreen (Black or Clear as your choice)
Windscreen Bolts Color Choice (Black/Silver/Gold/Blue/Red)
Seat Foam (Precut (1.5 or 2.0 cm think) Or Square (34x34 CM -1.5 or 2.0 cm thick)
3 Different Design Choices (8 x Fairing Fasteners)
Please let us know your choices for accessories. We will send black windscreen bolts with pre-cut 1.5 cm seat foam and C Fasteners because they are most popular.
Please Email Us Designs & Requests If You Require Painting Service. Photos of sample color and stickers must be attached.
Pre-drilled Holes
12K MOTOR Race Fairings do not come with pre-drilled holes. Mount points on the fairings do have recesses in the mold where the holes need to be drilled. These recessed areas are slightly larger than the hole size to allow a bit of flexibility for ease of fitting.
Notes: Although 12K MOTOR faring kits come complete with quick fasteners. The original factory frame bolts must be used wherever the fairing is mounted to the frame of the motorcycle.
12K Motor Aftermarket Motorcycle Fairing Supplier
Note: 12Kmotor.com.au is not an authorized dealer for Honda, Yamaha, Suzuki, Kawasaki, Ducati or BMW. Our products are Aftermarket/Replacement not OEM Parts.
We design a wide variety of Kawasaki motorcycle replacement fairing kits. If you don't see a design you like, email us at sales@12kgroup.com and we can custom paint anything you can imagine! 12K Motor fairing kit have one of the industry's best guarantees on a perfect fitment.
Fairings
All of our Aftermarket Daytona 675 Fairing Kit 2006 - 2012 motorcycle motorbike fairing kits come with complete set of fairing panels. The related parts' painted & decal same as per photo shown, to rejuvenate your motorbike.
Most of Aftermarket Daytona 675 Fairing Kit 2006 - 2012 comes with front mudguard, front upper fairing, left and right sides.
It is including belly pan or lower side panels, full rear duck tail fairing parts. 12K Motor has the best Melbourne motorcycle fairings.
Some of Daytona aftermarket fairing kit including tank cover and rear seat cowl as well to match the whole motorbike fairing design.
The

 
majority

 
of

 
our

 
motorcycle

 
fairing

 
kits

 
include

 
smaller

 
fill-in

 
panels.

 
The

 
interior

 
panels

 
are

 
black

 
plastic

 
to

 
match

 
the

 
overall

 
fairing

 
appearance.

 
You

 
can

 
easily

 
update

 
all

 
of

 
your

 
motorcycle's

 
plastic

 
fairing

 
components.
For your convenience, our Kawasaki aftermarket fairing kit also comes with motorcycle clear or black windscreen and heat shield. We guarantee 100% OEM fitment.
Please do not hesitate to contact us via message. If you are uncertain about parts and panels of your bike before making purchase.
Fairings Production Process and Time
We stock several variations of KAWASAKI aftermarket fairings in Australian warehouse and our own factory in China. We will mark them if we have stocking for that design.
Most of 12k motorcycle fairings Australia KAWASAKI aftermarket fairing kits. The full range of fairings parts are produced after our customer's order and requests. Because there are too many different motorcycle fairing models, years of manufacture, also with different designs and colors.
We are unable to stock all of these customized deigns of these aftermarket fairing kits with front and rear.
12K MOTOR Road Fairings Kit (Street Fairing Kit) are ABS fairings kits, (ABS Plastic Material). Race fairing kit (Track Fairing Kit), AMP for motorcycle fairing are Fiberglass Fairings. Or carbon fiber fairings with easy installation and water resistant.
For example, bmw s1000rr motorcycle fairings need to take 3-5 days for fast delivery in Other countries.
We can do basically all popular designs, like Monster Fairings, Repsol Fairings, Shark Fairings, Rossi Fairings, Camel Fairing,
West fairing, Tricolor Fairing, Red Bull fairing, OEM design fairings, Ninja fairings, Lucky Strike Fairings, Rizala fairings etc.
Once you place your order on 12k motor store. We will start process your order once the payment is cleared.
The fairings production process and time including following steps:
Make sure your order details and requests are clear to us.
Preparations and Painting for your motorcycle fairings. (Inside as well)
Apply Graphics, Decals and Clear Coat on top of stickers to give your fairing kit durable finish.
Checking of your DIY motorcycle fairings and take photos of them, then pack well each single panel.
We will need extra steps if your order is customized design or color. To ensure your special fairing design is what you expected.
The total production process and time will be around 10-15 working days for most aftermarket fairing designs.
Fiberglass race fairing kit and Race style fairing kit will need longer time. If you request to change color, design or any additional requests. We will need extra time as well.
If you ordered a complex or customized design. We will send you finished fairings photos for your approval before we post the fairing kit.
Extra services for fairings
Fairings Color Matching
However, 12k motorbike fairings will try our best to match the color for you if you are unable to do that. We will try to match the color for you based on the photos or our experience. We can tell you how much similarity we can do for your motorcycle fairing kit order. Compare to your original motorbike fairing color.
Why you always worried the motorcycle fairing repair cost ? Contact our sales team to organise painting motorcycle fairings matte black and wide range motorcycle fairings.
If you can't tolerate for slightly paint color difference. Between 12k motor fairing kits and OEM fairing kit (Or fuel tank).
We will suggest you to paint the fuel tank to match our fairing kit color. To buy genuine OEM factory fairing parts. It includes 1997 Honda VFR 750 fairings body kits, 2016 honda cbr500r fairing kit, and honda cbr 125 fairings.
In Australia, as we know, repaint an undamaged fuel tank cost around $250-$400 depends on the color and paint shop. Which is less than what you expect., and they can quickly match the color for you. We can supply the fuel tank stickers if you require when you order our aftermarket fairing kit, which is totally free.


12K MOTOR - Quality Guaranteed Aftermarket Motorcycle Fairing Kits
12K Motorcycle is using injection moulded technology. Using ultra virgin imported ABS Painting Plastic Motorcycle Fairings. We are able to produce a best glue for motorcycle fairing kit that is simply unparalleled in the market.
Not only do we make the best kits in the business but we make those kits with a guarantee. Our aftermarket fairings will slip onto your motorbike just as easy as your OEM ones slipped off.
We look forward to seeing your photos showing our fairing kits on your motorcycle.
Currently Reviewing
TRIUMPH 675 2013 - 2017 Fiberglass Race Fairing Set Track Fairing Kit