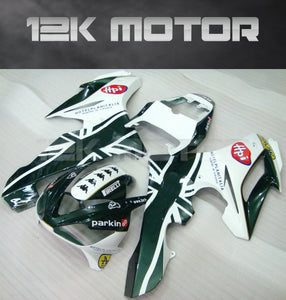 Triumph Daytona 675 2006 2007 2008 White and Green Fairing Kit
$860.00

$860.00

Save

$368.57
---
---
Triumph Fairing Daytona 675 R 2006-2008 White and Green
Triumph fairing Daytona 675 Race 2006–2008 White and Green edition, Pre-Drilled Precision OEM Perfect Fitment, Top Quality ABS Plastic (Injection) fairing kits, and 100% Fitment Guarantee.
Aftermarket fairing kit Compatible With:
| | |
| --- | --- |
| Make: | Triumph |
| Model: | Daytona 675 R |
| Year: | 2006-2008 |
Fairing Kit comes with 12 Pieces + 3 Free Gifts.
Full Fairing Kit Panels
Free Bolts Set (Spare fairing bolts only)
Windscreen
Heat Shield
12K Motor Motorcycle Fairings
To revitalize your motorcycle, all of our Triumph aftermarket Daytona 675 motorcycle fairing kits include a complete set of fairing panels and parts painted and decal the same as shown in the photo. 
Triumph Daytona 675 fairing set 2006 - 2008 includes front mudguard, front upper fairing, left and right sides including belly pan or lower side panels, and complete rear duck tail fairing elements. 
Some Triumph Daytona fairing kits include a tank cover and a rear seat cowl to match the overall motorcycle fairing style.
Most of our motorcycle fairing kits include tiny fill in panels or inner black plastic panels to fit the overall look of the fairing. It will be much easier for you to replace all of your motorcycle's plastic fairing parts.
Our Triumph Daytona fairing kit set also includes motorcycle fairing mounting bolts, a clear or black windscreen, and a heat shield for your convenience. We guarantee 100% OEM compatibility.
Please do not hesitate to contact us via message if you have any questions about the parts or panels on your bike before purchasing.
Production Process and Time
We sell numerous varieties of Triumph Daytona 2006, 2007 2008 aftermarket fairings in our Australian warehouse and our manufacturing in China; if we have stock for that design, we will mark it.
Most 12k motor Triumph Daytona aftermarket fairing kits and parts are manufactured in response to our customer's orders and demands. 
We cannot supply all of these customized Triumph aftermarket fairing kit designs since there are too many motorcycle fairing models, years of manufacture, and different designs and colors.
Please remember that 12Kmotor.com.au is not a Honda, Yamaha, Suzuki, Kawasaki, Ducati, or BMW authorized dealer. 
Our items are aftermarket rather than OEM.
The 12K MOTOR Road Fairings Kit (Street Fairing Kit) is made of ABS (ABS Plastic Material). 
Fiberglass fairings are used in race fairing kits (Track Fairing Kits).
The 12K MOTOR Road Fairings Kit (Street Fairing Kit) is made of ABS (ABS Plastic Material). 
Fiberglass fairings are used in race fairing kits (Track Fairing Kits).
Monster Fairings, Repsol Fairings, Shark Fairings, Rossi Fairings, Camel Fairing, West Fairing, Tricolor Fairing, Red Bull Fairing, OEM design fairings, Ninja Fairings, Lucky Strike Fairings, Rizala Fairings, and so on.
After you've placed your order with 12k Motor Store. 
Once your payment has been processed, we will begin processing your purchase.
The following steps are included in the production process and time:
Please make sure we understand your order information and wishes.
Preparation and painting of motorcycle fairings 
To give your fairing kit a durable finish, apply Graphics, Decals, and a Clear Coat on top of the stickers.
Examine and photograph your motorbike fairings before packing each panel.
If your order includes a customized design or color, we will need extra efforts to ensure that your specific fairing design is precisely what you expected.
For most aftermarket fairing designs, the complete production process and duration will be around 10-15 working days.
Fiberglass and race-style fairing kits will take more time to complete. 
We will need more time if you want to change the color, design, or make any other changes in the middle of the production process.
If you selected a complex or unique design, we would give photographs of the completed fairings for your approval before shipping the fairing kit.
Extra services for fairings
Color Matching
Unfortunately, 12k motors cannot be guaranteed to match the exact color of your OEM factory fairing panels or gasoline gas tank. 
This is due to various uncontrollable circumstances, like fairing color paint fade, undercoat, layer variances, OEM product material, etc.
If you can provide a tiny original part to our Australia motorcycle fairing warehouse and Sydney motorbike fairing workshop, we can color match it. 
We will charge $50-$80 to do the color match, depending on the color you want us to match for you; however, we cannot guarantee that it will be precisely the same, but it will be a very similar hue. 
Please email or message the images to us before sending the OEM fairing component.
However, if you cannot match the color, we will strive to match the color for you based on the images or our experience. We can also tell you how many similarities we can accomplish for your motorcycle fairing kit purchase compared to your original motorbike fairing color.
If you can't stand the minor paint color variation between 12k motor fairing kits and OEM fairing kits, this is the kit for you (Or fuel tank). 
We recommend that you paint the gasoline tank to match the color of our fairing kit or purchase genuine OEM factory fairing pieces.
As we all know, in Australia, repainting an entire gasoline tank costs between $250 and $400, depending on the color and paint shop. 
Which is less than you anticipate, and they can rapidly match the hue for you. 
We can provide the gasoline tank stickers if you order our aftermarket fairing kit, which is entirely free.
12K MOTOR-Quality Guaranteed Aftermarket Motorcycle Fairing Kits
Premium Aftermarket ABS Injection Moulding technology creates the 12K Motor Fairings. 
We can make a fairing kit that is just unrivaled in the market by using ultra virgin imported ABS Plastic, and our precision developed Injection Moulding technology. 
We not only create the most excellent kits in the business, but we also guarantee them. No changes, no drilling. 
Our aftermarket fairings will fit your motorcycle just as easily as your OEM ones.
Perfectly removing and installing an entire aftermarket fairing kit is not as simple as you may think. You must remember how to remove the old fairings, which bolts go in which holes, and how to remove clips and rubbers from the old panel and put them in the new fairing section similarly.
We have been in the motorcycle business for many years and are motorcycle mechanics, not just regular traders. We are familiar with motorcycles.
We have installed and tested numerous aftermarket fairing kits on various motorbike models. We know how well our fairing kit fits. You may buy with confidence from a group of sports motorcycle enthusiasts.
Reuse your OEM fairing bolts, factory hardware, and even certain black inner parts because OEM parts are always the best for your motorcycle because they were explicitly designed for it.
Please contact us if you have difficulties fitting the fairing kits to your motorcycle. One reason could be that your motorcycle was in an accident or fell, and your motorcycle sub-frames and mounting points are damaged and not in the proper position; you must ensure that all of your motorcycle mounting points are in good condition and the proper position before attempting to fit the new fairing.
Even though everything appears in good working order, you cannot install the fairing kit. 
Immediately STOP and email us as soon as possible with images demonstrating the issue you are experiencing. We will provide the best guidance to assist you in finishing the fitting. 
Please do not force it into place since you will damage the fairing.
What are you waiting for? Spend a little money and acquire a new sexy bike.
Add this to your shopping basket right now and continue browsing other options. 
Save your time for returning to locate it. 
If you need more time to think about it, put them in your cart till you decide to buy.
We eagerly await your images of our fairing kits on your motorcycle. Please note us about your special requirements.
Currently Reviewing:
 Triumph Fairing Daytona 675 R 2006-2008 White and Green