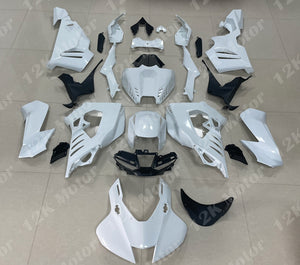 UNPAINTED FAIRING KIT FOR HONDA CBR1000RR-R 2020-2022
$850.00

$850.00

Save

$550.00
---
---
2020 - 2022 Unpainted Fairing Kit For Honda CBR1000RR-R Fairing 
Aftermarket Abs fairing kit Compatible With:
| | |
| --- | --- |
| Make: | Honda |
| Model: | CBR1000RR-R |
| Year: | 2020 2021 2022 |
| | |
Top Quality ABS Plastic Fairing Kit.

Pre-Drilled Precision OEM Perfect Fitment.

Injection Molding, Guaranteed 100% Fitment.
Abs Fairing Kit comes with 25 Pieces
Full Fairing Kit Panels

Heat Shield

Spare Bolts Kit (Polish Bolts and Clips)
Complete fairing bolt kit screws available at our store.
12K Motor-The Most Realiable Fairing Supplier.
Product Description:
Transform your Honda CBR1000RR-R into a true masterpiece with our Aftermarket ABS Fairing Kit. Crafted with precision and style in mind, this kit boasts top-quality materials, guaranteed fitment, and the freedom to tailor your motorcycle's appearance to your exact preferences.
Perfect Compatibility:
Make: Honda
Model: CBR1000RR-R
Year: 2020, 2021, 2022
Uncompromising Quality:
Our fairing kit is crafted from top-quality ABS plastic using injection moulding, ensuring a guaranteed 100% fitment and unmatched durability. Say goodbye to fitment issues and hello to seamless installation thanks to our pre-drilled design.
Customize Your Style:
Whether you lean towards classic aesthetics or crave a more sporty look, our fairing kit is designed to be compatible with all styles of Honda CBR1000RR-R fairings for the model years 2020-2022. This flexibility allows you to create a motorcycle that represents your unique taste.
Complete Kit for a Seamless Upgrade:
Our comprehensive kit includes everything you need for a flawless transformation:
25 Pieces of Full Fairing Kit Panels
A Heat Shield for added protection
A Spare Bolts Kit with polished bolts and clips
If you need additional hardware, our complete fairing bolt kit screws are readily available in our store.
Trust in Quality and Reliability:
12K Motor is renowned as the most reliable fairing supplier in the industry. We take pride in delivering top-quality products and ensuring exceptional customer satisfaction.
Elevate Your Aesthetics with the Honda Black Badge:
Enhance the visual appeal of your bike with the iconic Honda Black Badge included with this kit. It's more than just an emblem; it's a symbol of excellence that sets your CBR1000RR-R apart from the rest.
Ready to redefine your riding experience? Explore endless style possibilities with our Aftermarket ABS Fairing Kit. Embrace the perfect fit, unbeatable quality, and the satisfaction of riding a bike that reflects individuality. Elevate your Honda CBR1000RR-R today and embark on your journeys in style and confidence. Visit our store to discover more and make your motorcycle a true masterpiece.