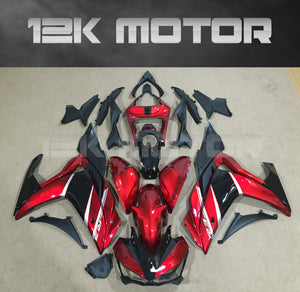 Candy Red Fairing For Yamaha YZF-R3 2015-2017 Aftermarket fairing kits
$840.00

$840.00

Save

$360.00
---
---
2015 - 2017 Yamaha YZF R3 Fairing Candy Red Kit
High-Quality ABS Plastic (Injection Moulding) Candy Red Fairing Kit for 2015-2017 Yamaha YZF R3. To ensure a precision OEM-standard fit, all holes have been pre-drilled.
Aftermarket Yamaha R3 fairings Compatible With:
| | |
| --- | --- |
| Motorcycle: | Yamaha |
| Model: | YZF-R3 YZF-R25 |
| Year: | 2014 -2018 |


Yamaha Fairings comes with 28 Pieces .
Full R3 Fairing Kit Panels

Windscreen

Heat Shield
12K Motor R3 R25 Aftermarket Motorcycle Fairings
12Kmotor.com.au is not a Honda, Yamaha, Suzuki, Kawasaki, Ducati, or BMW-authorised dealer. Our items are aftermarket, as opposed to OEM (original equipment manufacturer) parts. We produce a variety of replacement Yamaha YZF-R3 and YZF-R25 motorcycle fairings.
If you don't discover a pattern you like, email us at sales@12kgroup.com, and we'll paint it for you! Fairing systems for the R3 and R25 are backed by one of the strongest fitment warranties in the industry.
Fairings
All of our Aftermarket Yamaha R3 fairings 2014 2015 2016 2017 2018 motorcycle motorbike fairing kits come with complete set of fairing panels and parts' painted & decal same as per photo shown, to rejuvenate your motorbike.
R3 (R25) motorbike fairing set comes with front mudguard, front upper fairing, left and right sides including belly pan or lower side panels, full rear duck tail fairing parts.
Some of Yamaha aftermarket fairing kit including tank cover and rear seat cowl as well to match the whole motorbike fairing design.
Most of our motorcycle motorbike fairing kits come with smaller fill-in panels or inner black plastic panels to match the whole fairing design. Much easier for you to refresh your whole motorcycle plastic fairing parts.
For your convenience, our Aftermarket R3 and R25 fairing kit set also comes with motorcycle clear or black windscreen and heat shield. We guarantee 100% OEM fitment.
Please do not hesitate to contact us via message if you are uncertain about parts and panels of your bike before making purchase.
Fairings Production Process and Time
We stock several variations of Yamaha R3 aftermarket fairings in Australian warehouse and our own factory in China, we will mark them if we have stocking for that design.
Most of 12k motorcycle fairings Australia YAMAHA aftermarket fairing kits and fairings parts are produced after our customer's order and requests. Because there are too many different motorcycle fairing models, years of manufacture, also with different designs and colors, we are unable to stock all of these customized deigns of these aftermarket fairing kits.
12K MOTOR Road Fairings Kit (Street Fairing Kit) are ABS fairings, (ABS Plastic Material). Race fairing kit (Track Fairing Kit) are Fiberglass Fairings.
We can do basically all popular designs, like Monster Fairings, Repsol Fairings, Shark Fairings, Rossi Fairings, Camel Fairing, West fairing, Tricolor Fairing, Red Bull fairing, OEM design fairings, Ninja fairings, Lucky Strike Fairings, Rizala fairings etc.
Once you place your order on 12k motor store. We will start process your order once the payment is cleared.
The fairings production process and time including following steps:
Make sure your order details and requests are clear to us.
Preparations and Painting for your motorcycle fairings. (Inside as well)
Apply Graphics, Decals and Clear Coat on top of stickers to give your fairing kit durable finish.
Checking of your motorcycle fairings and take photos of them, then pack well each single panel.
We will need extra steps if your order is customized design or color, to ensure your special fairing design is what you expected.
The manufacturing process and timeframe for most aftermarket fairing designs will be approximately 10 to 15 working days. It will take longer to produce a fibreglass race fairing kit or a Race-style fairing kit.
We will also need additional time during production if you request modifications to the colour scheme, design, or other specifications. If you request a complex or custom design, we will send you photos of the completed fairings for your approval before we ship the fairing kit.
Extra services for fairings
Fairings Color Matching
Don't fret if you can't provide us with an exact colour match for your motorcycle fairings; 12k motorbike fairings will do our best to match the colour based on photos or our experience. We will also inform you how closely we can match your motorcycle fairing assembly order.
You may not want to choose an aftermarket alternative if you require a precise match between your OEM fairing kit (or fuel tank) and your 12k motor fairing kit. Either purchase a set of OEM factory fairings or paint the fuel tank to match the colour of our fairing package.
We know that the cost to refinish a complete gasoline tank in Australia ranges between $250 and $400, depending on the paint establishment and the selected colour. Which is significantly less than you'd expect, and the colour match is completed in no time. We will provide free gas tank decals if you purchase our aftermarket fairing kit.
12K MOTOR-Quality Guaranteed Aftermarket Motorcycle Fairing Kits
In the production of 12K Motor Fairings, premium aftermarket ABS injection moulding is used. We can produce a fairing package that is unmatched in the industry due to our use of ultra-virgin imported ABS Plastic and our own Injection Moulding technology.
We abide by the quality of our products and offer a 100% satisfaction guarantee on all our kits, which do not require any modifications or drilling. Our replacement motorcycle fairings can be installed as readily as the originals were removed.
Removing and installing a complete aftermarket fairing package is more complex than you may believe. Remove clips and rubbers from the old panel and reapply them to the new fairing section in the exact locations of the old panel to ensure a correct fit.
Our mechanics are genuine enthusiasts, and we have years of experience in the motorcycle industry. With our expertise, we can assist. Numerous aftermarket fairings have been installed and evaluated on various motorcycles.
Our fairing kit's flawless fit is no secret to us. A group of dependable motorcycle sports enthusiasts. OEM (original equipment manufacturer) parts are always superior because they were designed specifically for your motorcycle.
This includes fairing fasteners, factory hardware, and some black interior components. Occasionally, you may have difficulty installing motorcycle fairing fittings. If your motorcycle has been involved in an accident or has collapsed, the sub-frames and mounting points may have been damaged and are no longer in the correct position.
Before attempting to install the new fairing, you must ensure that all of the mounting points on the motorcycle are in excellent condition and the correct location.
Even if the fairing kit passes your inspection, it cannot be installed. Stop what you're doing and email us photos of the problem immediately; we'll do our best to provide you with the fitting instructions you need. Please do not attempt to force it into position; doing so will damage the fairing.
We look forward to seeing your photos showing our fairing kits on your motorcycle.
YZF-R3 2015-2017 Candy Red Fairing